The mighty void of Sahara Desert reveals interesting facts and fascinating legends. 4 km / 2.4 mi from a little desert village on the railway stretch from Nouadhibou to Zouerate, we can spot an enormous mass of dark rock belonging to Ben Amera monolith, rising up to 633 m / 2076 ft.
Totally controlling the desert skyline, Ben Amera is the biggest monolith in Africa. Other smaller size monoliths can be seen nearby.
To get to Ben Amera, there is no road. You have to get a 4WD and drive from Nouadhibou to Choum, on a two-day desert adventure.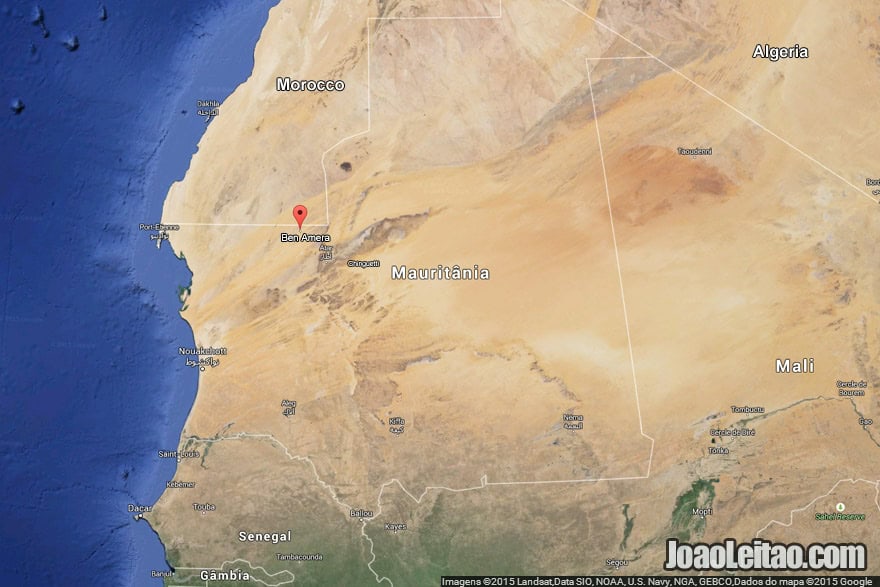 A natural monolith is a large block of stone, consisting of a single element – most times being confused with a mountain. There are only 2 bigger monoliths in the world after Ben Amera, the monolith Uluru and Mount Augustus, both located in Australia.
Ben Amera is surrounded by dunes, and the contrast effect on the landscape is breathtaking.
Throughout time, these huge rocks became very useful to sub-Saharan African traders, crossing the desert with camel caravans from Djenee in Mali, all the way to Morocco. When local people set fires, the light reflected on the rock, guiding travelers in the right direction amidst the dark Sahara Desert nights.
5 km / 3.1 mi away from Ben Amera lies another monolith. Ben Aicha, the ex-wife of Ben Amera – says local legend. It seems folk stories report that the destiny of those two rocks is the same as of humans.
Legend says that, at the beginning of times, Ben Amara – the monolith, was married to one of his relatives, Aicha. These two monoliths were once a single block of stone.
When returning from a trip, Ben Amera surprised Ben Aicha in the arms of her lover. Enraged, he kicked her away – keeping their siblings close to him. So, today, you'll see two small stone blocks alongside the imposing Ben Amera monolith. Ben Aicha is left alone with her maid, condemned to observe from afar her angry ex-husband.
I got to Ben Amera coming from Nouadhibou on the Atlantic Coast. It took me almost two days to get there, driving in the desert along the railway through the unstable region of the borderline between Morocco and Mauritania.
During two days we just came across one village called Tmeimichat; all the rest was desert, sand dunes, camel herds and minefields all along the northern part of the railway.